NGC 6823, Sh 2-86 and 6820
OPEN CLUSTER WITH NEBULOSITY IN VULPECULA
(ra 19:43.1/ dec 23:18)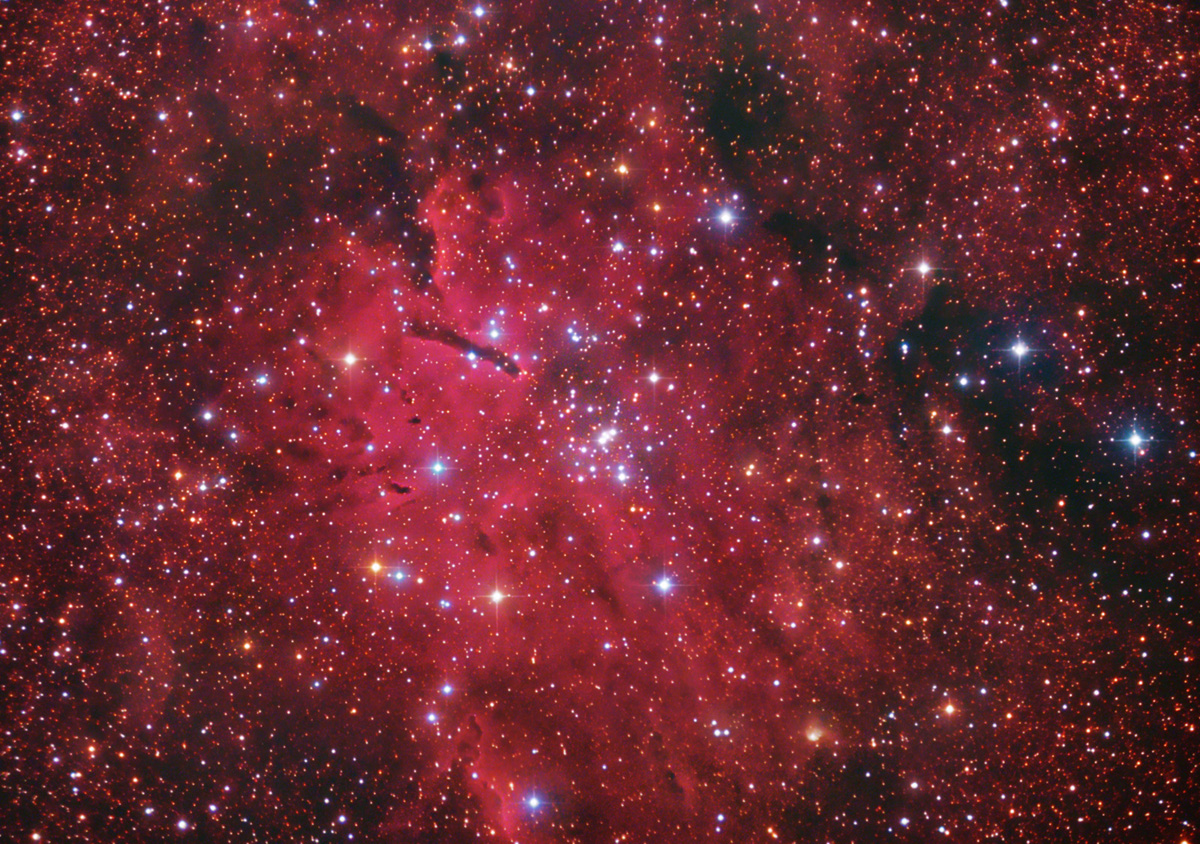 CLICK IN THE IMAGE FOR A HIGH RESOLUTION VIEW
June 2013 - Camping La Porteña - San Antonio de Areco, Buenos Aires, Argentina
---
DATA
TYPE: Open Cluster with Nebulosity
Apparent magnitude for NGC 6823: 7.1
Apparent diameter for NGC 6823 12 arc minutes
Distance: 6.000 light years
IMAGE INFORMATION
SCOPE: 8" Orion Optics UK with Televue Paracorr
CAMERA: QSI 583 WS
FILTERS: Baader LRGB, 2" IDAS LPS for all channels
SKY CONDITIONS: rural skies 35 % Moon
EXPOSURES: LHaRGB (60,60,30,30,30)
OBJECT DESCRIPTION AND IMAGE SESSION
The open Cluster NGC 6823 is surrounded by

an

emission nebula complex known as Sh 2-86, in the northern constellation of Vulpecula. The nebula

exhibits

a pillar of dust and gas

on

the east side of the cluster,

that might have got

its shape from the radiation

originated

from the young stars in the area. The central open cluster NGC 6823

its

only 2 million years old and

extends over some

50 million light years. With large aperture telescopes

about fifty stars can be seen

, including the four central stars (magnitudes 9 to 11.5)

found

near the core.
NGC 6820 is the small yellowish nebulosity located

at the bottom

right of the image, often

misidentified as

Sh 2-86.
Although for southern observers the object lies rather low, it can be photographed from rural skies. NGC 6823 is almost 32º above the horizon at its highest, while crossing the meridian in Buenos Aires' winter time.