NGC 6872 & 6876 GALAXY CROUP
GALAXY GROUP IN PAVO (THE PEACOCK)
(Image centered at: ra 22 h:22 m / dec - 45º 55')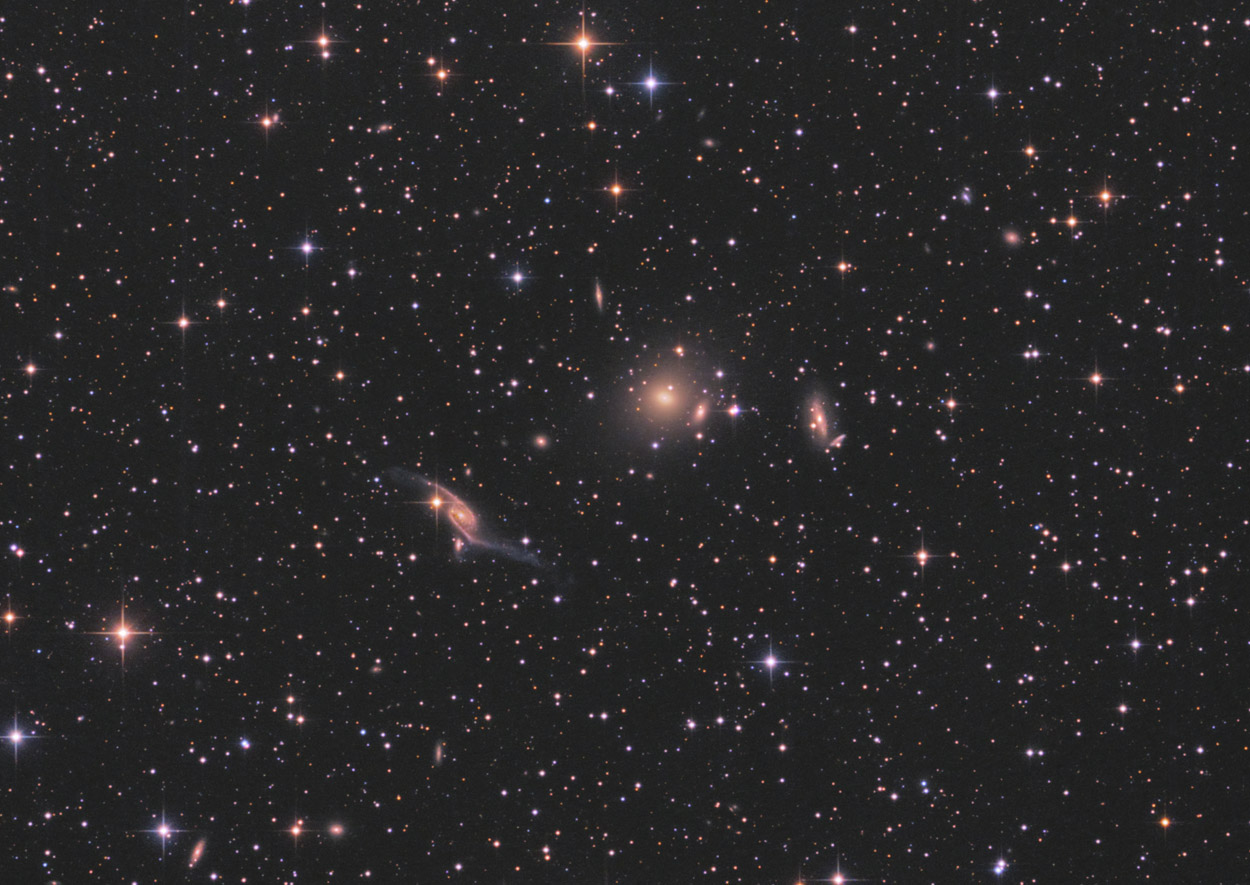 CLICK THE IMAGE FOR A HIGH RESOLUTION VIEW
August 2022, Observatorio Cielos Albertnos, Buenos Aires, Argentina
---
DATA
TYPE: Galaxy Group in Pavo
APPARENT DIAMETER: NGC 6872 6 arc minutes; NGC 6876 2.7 arc minutes
APPARENT MAGNITUDE (V): 11.6 and 13 (mag) respectively
DISTANCE: 300 million light years
IMAGE INFORMATION
INSTRUMENT: 8" ORION OPTICS UK (Ultra Grade Optics) w/Televue Paracorr working at at f5,75
CAMERA: QSI 583 WS
MOUNT: SKY WATCHER NEQ6, OAG with Starligh Xpress Lodestar
FILTERS: Baader LRGB Set,
SKY CONDITIONS: dark skies - Bortle 3
EXPOSURES: LRGB (120,60,60,60) RGB bin 2x2
OBJECT DESCRIPTION AND IMAGE SESSION
NGC 6872, is a large barred spiral galaxy with a peculiar shape that resemble a big bird with open wings, thus it has the nickname of the "Condor Galaxy". NGC 6872 is interacting with the lenticular galaxy IC 4970 which is less than one tenth of the size of NGC 4872. The galaxy has two elongated arms measuring a stellar diameter over 700.000 light years across making one of the largest spiral galaxy known. The galaxy was discovered by English astronomer John Herschel in June 1835 from South Africa.
On the upper right we have NGC 6876 an elliptical galaxy which is moving away from NGC 6872. There are many distant galaxies in the background that are labelled in the annotated image below.
---
+
NGC 6872 & 6876
GALAXY GROUP IN PAVO
ANNOTATED IMAGE 100% RESOLUTION