NGC 6905 – PLANETARY NEBULA
Delphinus
(ra: 20:22,4/ dec 20:07)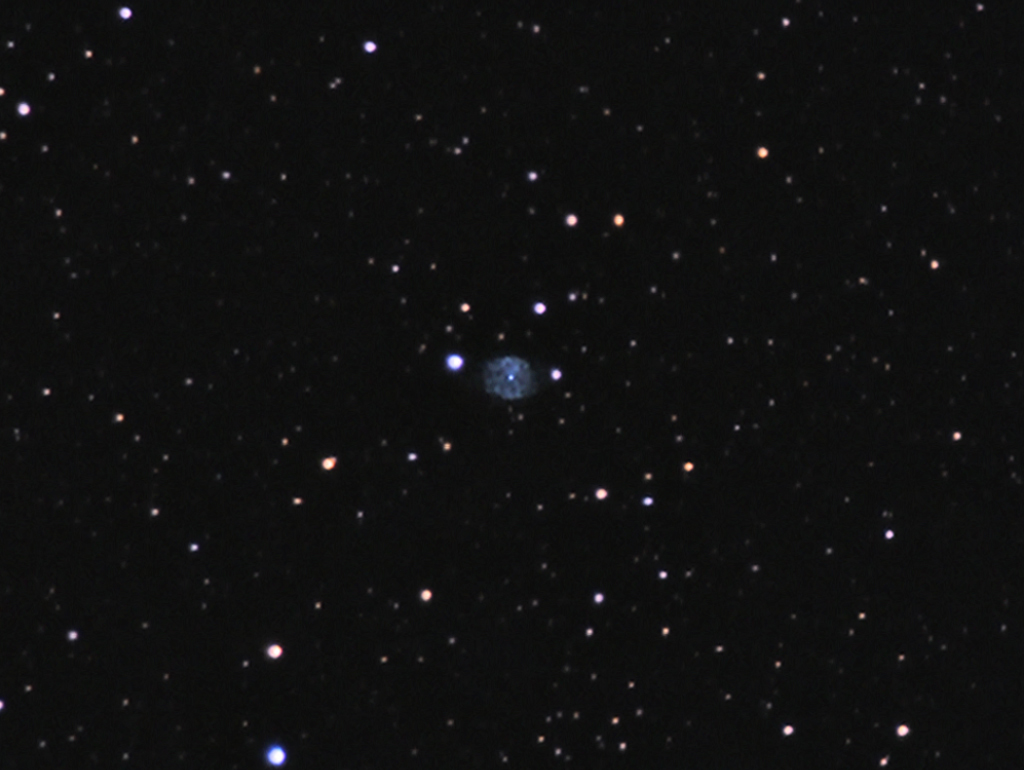 ---
DATA
TYPE: Planetary Nebula
APPARENT MAGNITUDE: 12
SIZE: 1.7 arc minutes.
DISTANCE: 4700 light years
DATE: October the 2nd 2008
OBJECT DESCRIPTION
NGC 6509 is a very small blue planetary nebula located in the constelation of Delphinus. It is surounded by a nice star filed (see wide field picture). Discovered in 1782 by William Herschel, this planetary nebula is accessible in a 6-inch scope, although it is in the larger instruments that it really shines. It is not a good target for southern observers because it is too low from the horizon, but is always good to grab some gems from the north hemisphere. The seeing was very good that night although some clouds pass through very fast and I had to interrupt the session for some minutes.
IMAGE INFORMATION
SCOPE: Celestron C8 (SCT) Vixen GPDX Mount. Sky Sensor 2000 guided with SXV guide Camera
SKY CONDITIONS: Seeing: Good. Visual limit magnitude 4.
CAMERA: Starlight Xpress SXVF H9 @f 5 (imaged croped)
FILTERS: Astronomik Ha, Astronomik Type II, IDAS LPS II for Luminance
EXPOSURES: LRGB(10,10,10,10)
IMAGE ACQUISITION & GUIDING: AstroArt 3.0 - CCD Control Interface 3.72 Plug In
PROCESSED: ImagesPlus 2.75, Photoshop CS
---
NGC 6905 – PLANETARY NEBULA - WIDE VIEW
Delphinus
(ra: 20:22,4/ dec 20:07)