R LEPORIS
(aka HIND'S CRIMSON STAR)
CARBON STAR IN LEPUS
(Image centered at: ra 05 h:00 m / dec - 14º 46')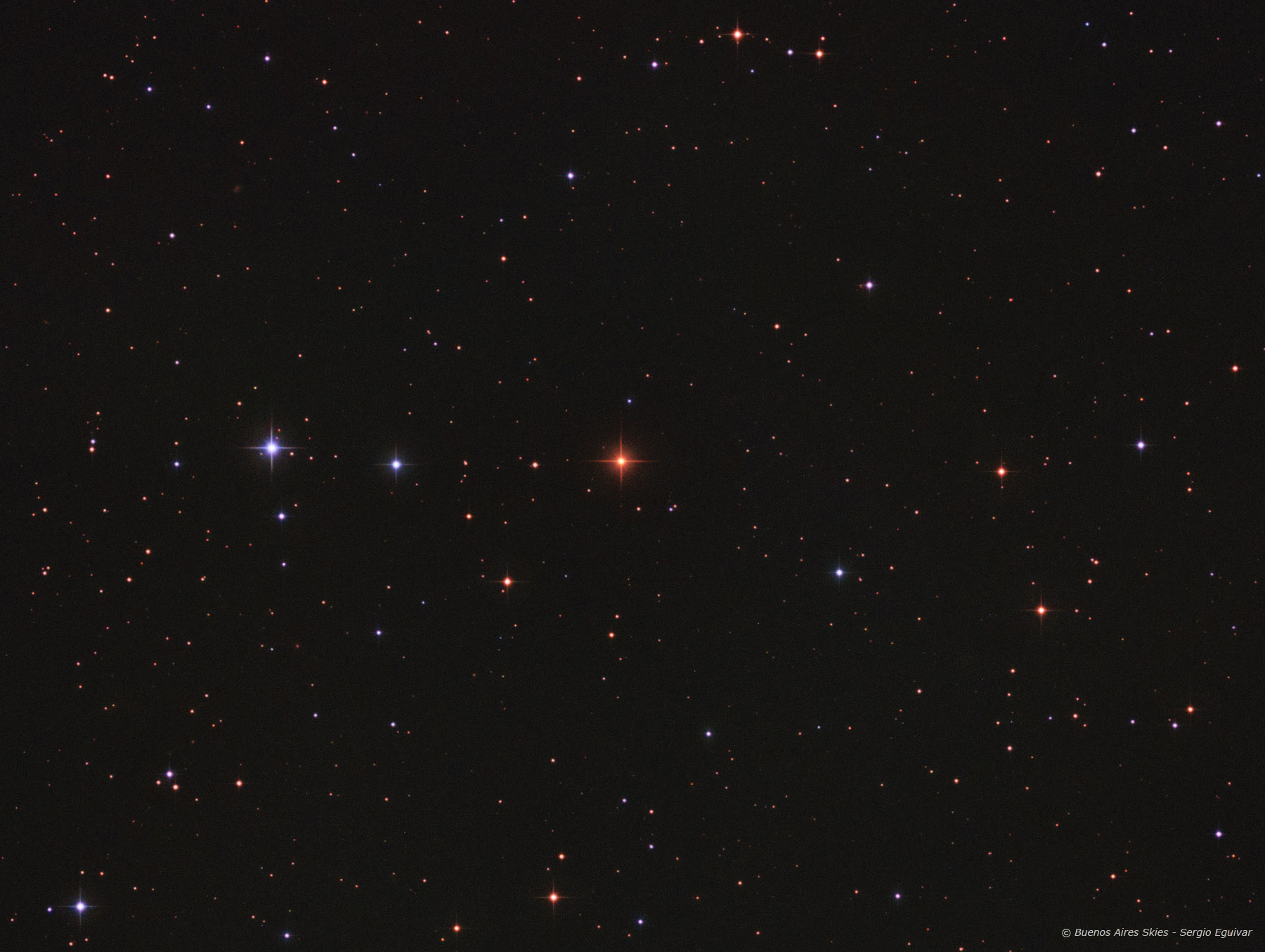 December 2022, Home Backyard in Martínez, Buenos Aires, Argentina
---
DATA
TYPE: Carbon Star
APPARENT DIAMETER: 480 to 535 solar radius.
APPARENT MAGNITUDE (V): variable Mira type: from 5,5 to 11,7
DISTANCE: 1350 light years
IMAGE INFORMATION
INSTRUMENT: 8" ORION OPTICS UK (Ultra Grade Optics) w/Televue Paracorr working at at f5,75
CAMERA: QSI 583 WS
MOUNT: SKY WATCHER NEQ6, OAG with Starlight Xpress Lodestar
FILTERS: Baader LRGB Set;
SKY CONDITIONS: urban skies - Bortle 8
EXPOSURES: RGB (20,20,20)
OBJECT DESCRIPTION AND IMAGE SESSION
R Leporis (R-Lep) is a carbon star which are typically an asymptotic giant branch star, a luminous red giant, whose atmosphere holds more carbon than oxygen. R Leporis is too far from earth for its parallax to be measured effectively. It was estimated a distance of 1,350 light-years, shining with a luminosity of approximately 6,689 times our Sun and has a surface temperature of 2,980 K
R Leporis has often been reported as an intense smoky red color, although this is not pronounced when the star is near its maximum brightness. It is reddest when it is dimmest, which occurs every 14.5 months. During these periods it is a candidate for the most-visible reddest star, but this claim is questionable.
By comparing with the other stars in the image, I presume that R-Leporis is transiting (December 2022) its low brightness stage showing probably a magnitude between 8 or 9 (v)
It was named after famous British astronomer John Russell Hind, who observed it in 1845.The star's discoverer reported that it appeared "like a drop of blood on a black field."
---