RCW 102 & MENZEL 3
NEBULA COMPLEX IN NORMA (THE SQUARE)
(Image centered at: ra 16 h:19 m / dec - 51º 58')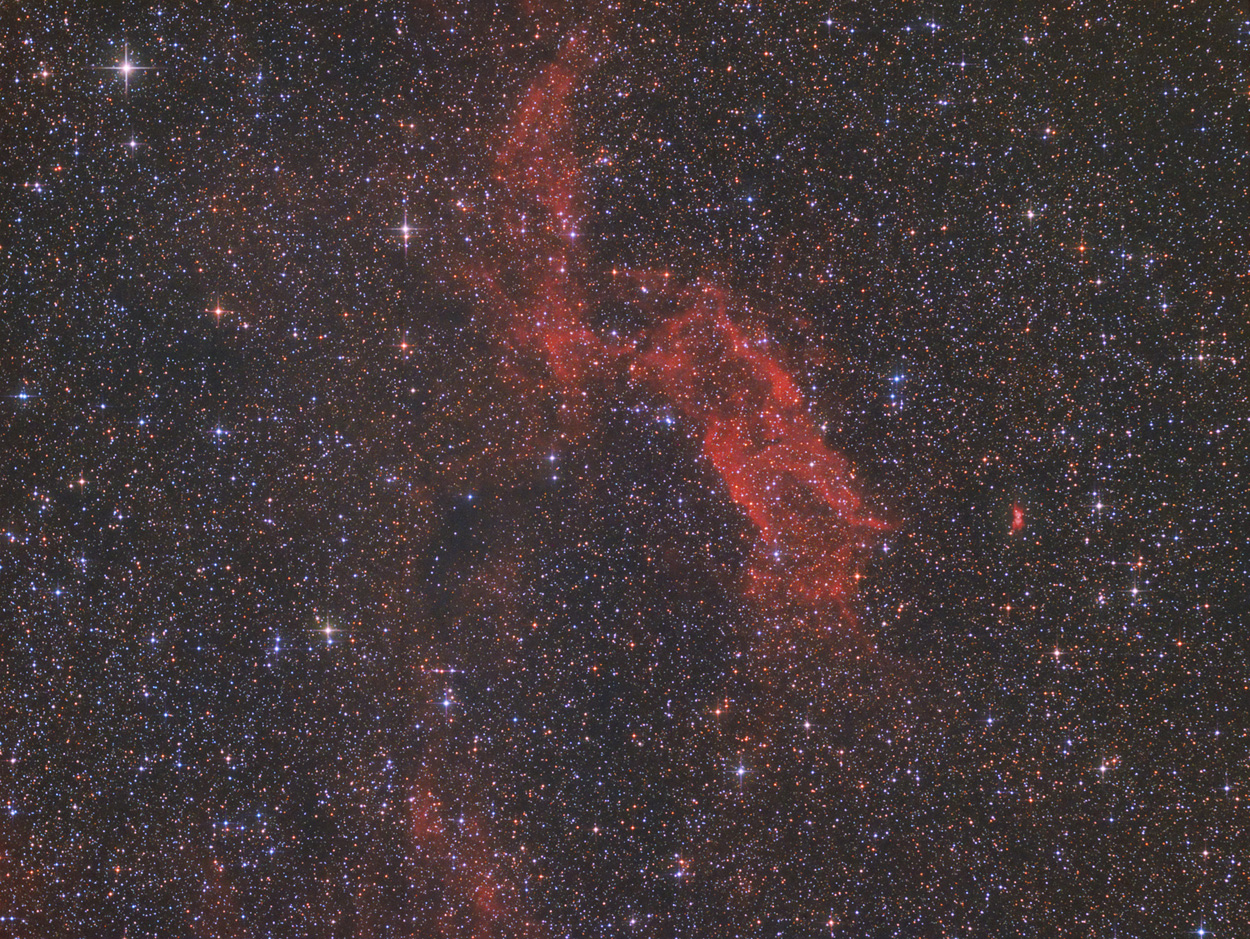 CLICK THE IMAGE FOR A LARGE VIEW
May 2022, Sarandi, Gualeguayachu, Entre Rios, Argentina
---
DATA
TYPE: Emision Nebula (RCW 102) & Bi-polar Planetary Nebula (Menzel 3)
APPARENT DIAMETER: 12 x 8 arc minutes (RCW 102) & 35 X 15 arc seconds (Menzel 3)
VISUAL BRIGHTNESS: N/A (RCW 102) & 13,8 mg (Menzel 3)
DISTANCE: approximately 15.600 light ears or 4800 párces (RCW 102) & 8154 light years for (Menzel 3)
IMAGE INFORMATION1
INSTRUMENT: 8" ORION OPTICS UK (Ultra Grade Optics) w/Televue Paracorr working at at f5,75
CAMERA: QSI 583 WS
MOUNT: SKY WATCHER NEQ6, OAG with Starligh Xpress Lodestar
FILTERS: Baader LRGB Set
SKY CONDITIONS: rural skies - Bortle 4 to 5
EXPOSURES: LHaRGB (60,60,40,40,40)
OBJECT DESCRIPTION AND IMAGE SESSION
RCW 102 is a diffuse H alpha region which is energized by the OB association with RCW 103. It is adjacent to The Rim Nebula region of NGC 6188 in the constellation Ara. The "rim" is being eroded by UV radiation from the adjacent O-Type stars.
RCW 102 consists of two objects at different distances. RCW 102b appears to be ionised by the O6 III giant LS 3539 = CD -51 9977. The photometric distance to the star is 4800 parsecs. (Although, confusingly, the paper refers to a second photometric estimate for other nearby stars of 4200 parsecs.) In contrast, the kinematic distance to the gas appears to be significantly less, 3500 parsecs, suggesting significant velocity dispersion in the Scutum-Crux (Centaurus) arm.
At the middle right of the image we have Menzel 3 also known as The Ant Nebula. The name resembles the head and thorax of a garden-variety ant. A Sun-like star approaching its death and the violence of an explosion. The image below with 150% resolution shows the ejection of gas from the dying star at the center of Mz 3. The gas structure has intriguing symmetrical patterns unlike the chaotic patterns expected from an ordinary explosion. Scientists would like to understand how a spherical star can produce such prominent, non-spherical symmetries in the gas that it ejects.
One possibility is that the central star of Mz 3 has a closely orbiting companion that exerts strong gravitational tidal forces, which shape the out flowing gas. For this to work, the orbiting companion star would have to be close to the dying star, about the distance of the Earth from the Sun. At that distance the orbiting companion star wouldn't be far outside the hugely bloated hulk of the dying star. It's even possible that the dying star has consumed its companion, which now orbits inside of it, much like the duck in the wolf's belly in the story "Peter and the Wolf."
A second possibility is that, as the dying star spins, its strong magnetic fields are wound up into complex shapes like spaghetti in an eggbeater. Charged winds moving at speeds up to 1000 kilometres per second from the star, much like those in our Sun's solar wind but millions of times denser, are able to follow the twisted field lines on their way out into space. These dense winds can be rendered visible by ultraviolet light from the hot central star or from highly supersonic collisions with the ambient gas that excites the material into florescence.
A very humid and hazy night sky with regular seeing
---
MENZEL 3 - 150% RESOLUTION
BI POLAR PLANETARY NEBULA IN NORMA (THE SQUARE)