RCW 101;102;103 (SNR); 104; 106; RU 116; NGC 6115
Norma
IMAGE CENTRED AT : ra 16,21. / dec -51º:25'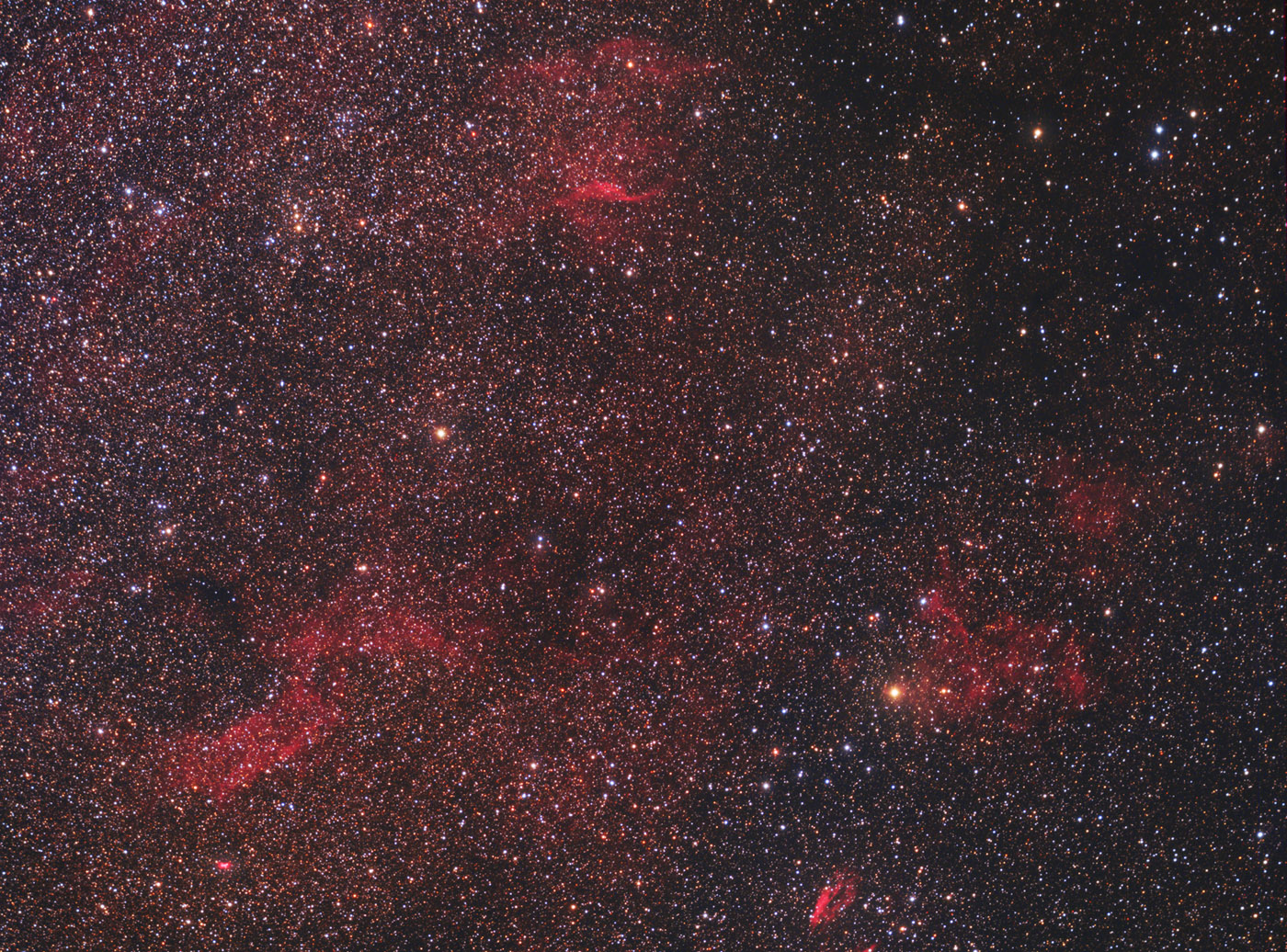 CLICK IN THE IMAGE FOR A HIGHER RESOLUTION VIEW
July 2011, Los Molinos - Córdoba, Argentina
---
DATA
TYPE: Cometary Globule
VISUAL BRIGHTNESS: N/A
APPARENT SIZE: RCW 101 (aka PK 331-1.1 / aka Ant Nebula) 35"x16"RCW 102 12'x8'; RCW 103 5'x3'; RCW 104 20'x20; RCW 106 35'x20; ; NGC 6115 3.4'; RU 116 5'
IMAGE FOV Approximately 106 x 70 arc minutes
DISTANCE: 10000 light years
OBJECT DESCRIPTION
The Southern Hemisphere has the particularity that there are many regions not much photographed. At the time of selecting targets in several cases there are nearly no references to check. The purpose of this image was to take a large view of many RCW objects in order to plan future hunting of rare nebulosity structures.
The RCW catalogue was published in 1960 by Alex Rodgers, Colin Campbell and John Whiteoak under the direction of Bart Bok. It contains 180 objects many of them HII regions which are also referenced by their Gum objects.
Check the labelled image for the following object notes.(*)
RCW 102 is a faint irregular structure that holds the famous Ant Nebula or RCW 101(aka Henize 2 - 154).
RCW 103 is a 2000 year old supernova remnant which seem to be very bright and needs only RGB to reveal its structure.
RCW 104 is a ring nebula around a Wolf Rayet Star WR75
RCW 106 is a massive star formation region in a 100 thousands solar mass cloud.
IMAGE INFORMATION
SCOPE: TMB 92 @ f5,5
MOUNT: NEQ6 SW
CAMERA: QSI 583 WS
FILTERS: Baader LRGB
EXPOSURES: LRGB (30,90,30,30,30)
Guiding: 80/400 Orion Short Tube and PHD Guiding v 12
PROCESSING: Sigma Median Combination and hot pixel reduction in Images Plus. Photoshop CS
(*) Source Galaxy Map
---
RCW 101; 102;103 (SNR); 104; 106; RU 116; NGC 6115 Labelled
Norma
IMAGE CENTRED AT : ra 16,21. / dec -51º:25'