RCW 58
WOLF RAYET STAR IN CARINA - HD 96548 aka WR 40
(ra 11:06.54/ dec -65:38)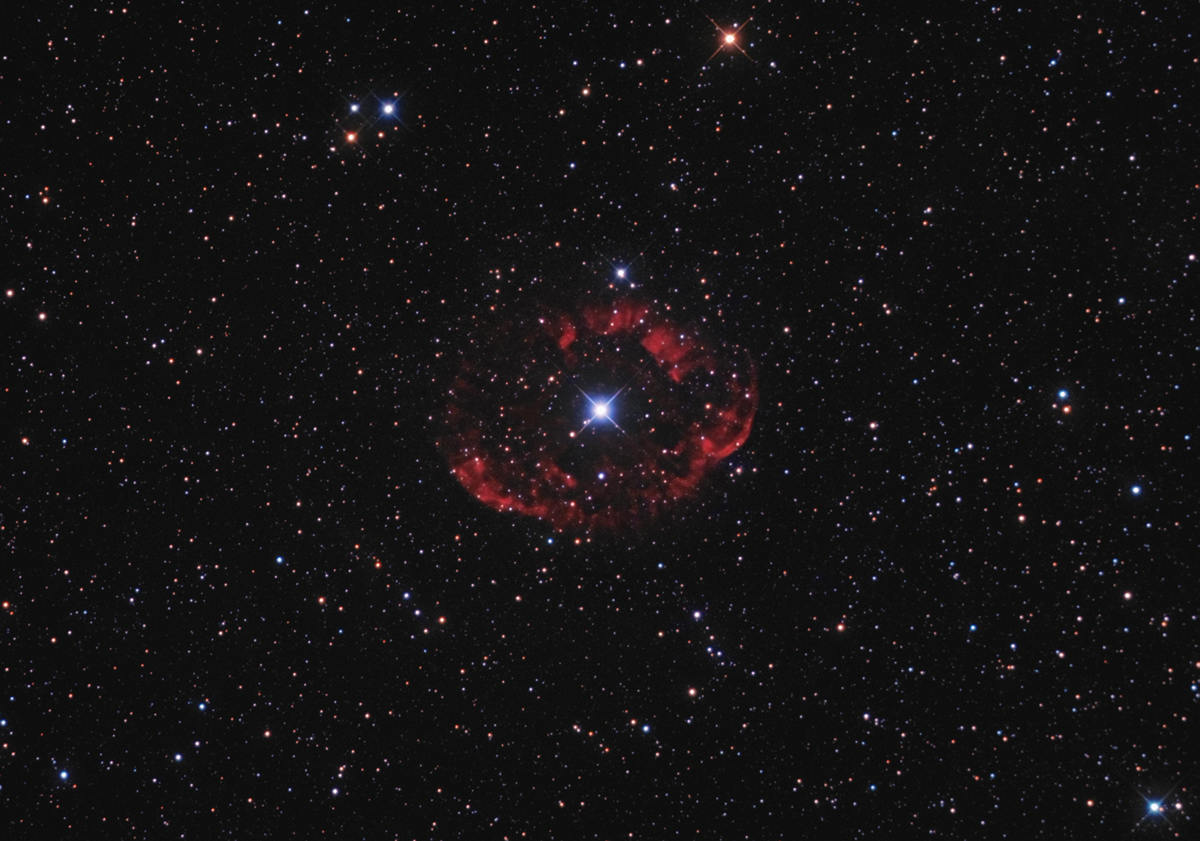 March 2013, Home Backyard in Martínez, Buenos Aires, Argentina
CLICK IN THE IMAGE FOR A HIGH RESOLUTION VIEW
SEE ALSO AN Ha LIGHT 100% RESOLUTION
---
DATA
TYPE: Wolf Rayet Star
Apparent magnitude: 7.7 for HD 96.548
Apparent diameter: 7 arc minutes
Distance: 12.700 light years
IMAGE INFORMATION
SCOPE: Carbon Fiber Ritchey Chrétien 8" f8
CAMERA: QSI 583 WS
FILTERS: Baader RGB, IDAS LPS for Luminance
SKY CONDITIONS: urban skies + full Moon
EXPOSURES: LHaRGB (60,100,30,30,30)
OBJECT DESCRIPTION AND IMAGE SESSION
Wolf Rayet stars are evolved massive stars which are loosing mass rapidly by means of a very strong stellar winds. In 1867 using a 40 cm telescope from Paris Observatory, astronomers Charles Wolf and George Rayet discovered in the constellation of Cygnus, three stars that displayed broad emission lines. The number of stars with emission lines is quite low, making these type of objects quite unusual, since most stars display absorption lines.
One example of these peculiar objects can be found in the constellation of Carina. In this case RCW 58 is a bubble of gas formed by ejected material blown out from the central star HD 96548 in a continuous spectrum. Helium, nitrogen, carbon and oxygen are expelled at high velocities up to 2400 km/s. The stellar winds represent a powerful source of mechanical energy and it will have significant effect on the evolution of the nebula.
RCW 58 is a very dim object for a light polluted place as my home backyard... even more complicated to image with a full Moon. Nevertheless with the aid of the Astronomik 6 nm Ha filter I was able to capture some pieces of the shell structure of the ring ejected.
---
RCW 58 IN Ha LIGHT
WOLF RAYET STAR IN CARINA - HD 96548 aka WR 40
(ra 11:06.54/ dec -65:38)
100% RESOLUTION - LINEAR STRETCHING ONLY