SAGITTARIUS GEMS
WIDE FIELD
(Image centered at: ra 18 h:07 m / dec - 23º 54')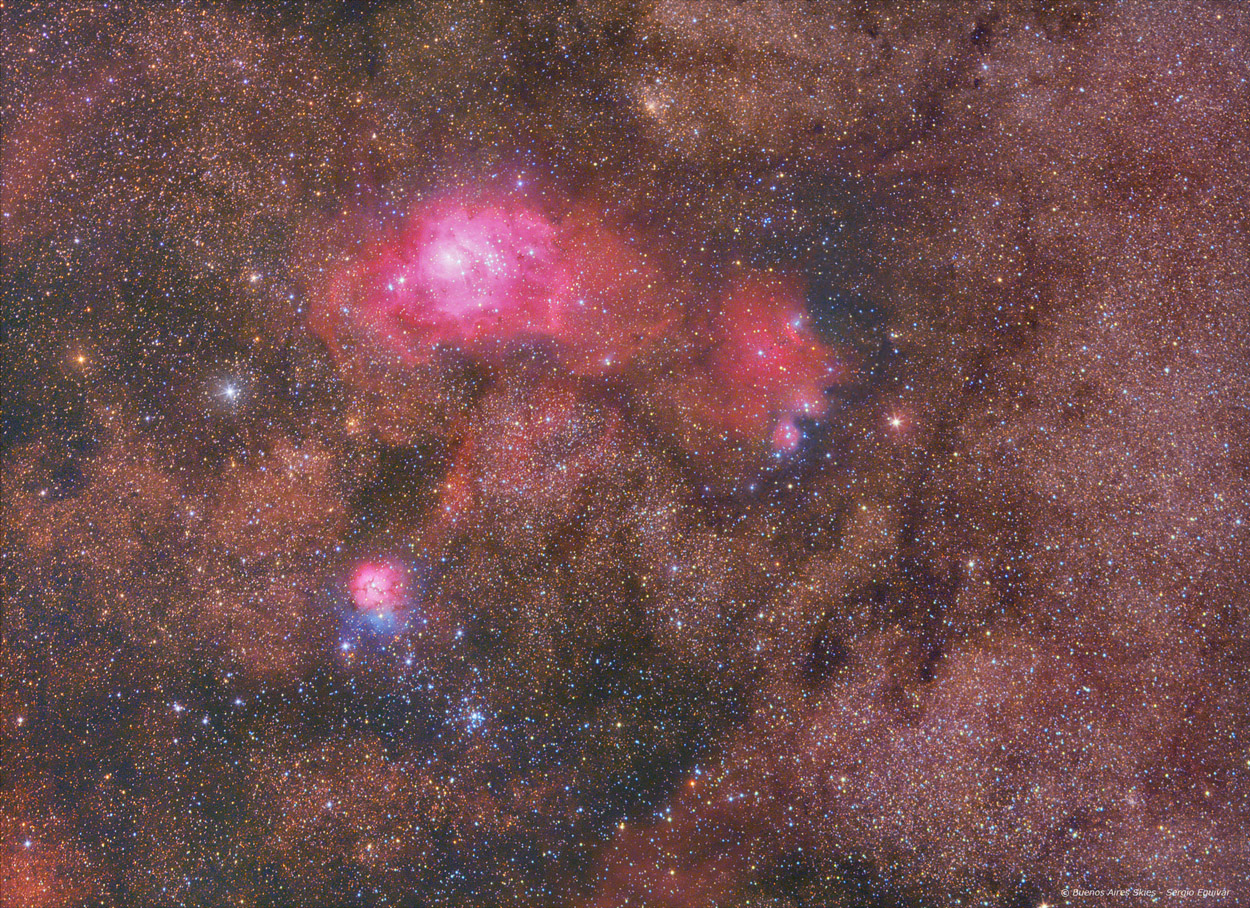 CLICK THE IMAGE FOR A HIGH RESOLUTION VIEW
July 2022, Home Backyard in Martínez, Buenos Aires, Argentina
---
DATA
TYPE: Wide Field
FOV 4º 26' x 3º 21'
APPARENT MAGNITUDE (V): N/A
DISTANCE: Between 4000 and 6000 light years
IMAGE INFORMATION
INSTRUMENT: Canon EF 200 mm lens stopped at 4,5
CAMERA: QSI 583 WS
MOUNT: SKY WATCHER NEQ6, Guided with 70/400 refractor 7 Starligh Xpress Lodestar
FILTERS: Baader LRGB Set, Astronomik Ha 6nm
SKY CONDITIONS: urban skies - Bortle 8
EXPOSURES: LHARGB (40,40,40,40,40) L channel is a synthetic luminance out of the HaRGB
OBJECT DESCRIPTION AND IMAGE SESSION
A well known and photographed area in Sagittarius with classics Messier and NGC objects standing out in front of a crowded star field due to the proximity to the galactic plane.
This trio is also known as Sagittarius Triplet which is often visited by stargazers on visual tours. In fact, 18th century cosmic tourist Charles Messier catalogued two of them; M8, the large nebula above and left of centre, and colourful M20 near the bottom left of the frame. The third emission region includes NGC 6559, right of M8 and separated from the larger nebula by a dark dust lane. All three are stellar nurseries about five thousand light-years or so distant. Over a hundred light-years across the expansive M8 is aka the Lagoon Nebula. M20 aka is the Trifid Nebula. Glowing hydrogen gas creates the dominant red color of the emission nebulae in the image. In striking contrast, blue hues in the Trifid are due to dust reflected starlight.
See below the annotated image.
---
SAGITTARIUS GEMS - WIDE FIELD
IMAGE WITH LABELS