SHAPLEY 1
PLANETARY NEBULA IN NORMA
(Image Centred at ra 15h:51.41m / dec -51:31)
CLICK IN THE IMAGE FOR A WIDER VIEW
CLICK HERE FOR A RAW COLOUR IMAGE
May 2014 - Camping La Porteņa, San Antonio de Areco, Buenos Aires, Argentina
---
DATA
Type: Planetary Nebula
Apparent magnitude: n/a. Central White Dwarf S 14
Apparent diameter: 1.1 arc minutes
Distance: 1.000 light years
IMAGE INFORMATION
SCOPE: 8" Orion Optics UK with Televue Paracorr
CAMERA: QSI 583 WS
FILTERS: Baader LRGB
SKY CONDITIONS: rural skies, foggy night
EXPOSURES: LRGB (30,30,30,30)
OBJECT DESCRIPTION AND IMAGE SESSION
This is an unusual annular planetary nebula in Norma. The nebula itself appears quite small at a little over an arc minute in diameter, while its central star is a magnitude 14 white dwarf. This object is unusual because those planetaries that are not bipolar are more or less spherical shells of material thrown off by the central star as it undergoes an internal rearrangement. We often see them as thick annuli because we look through a greater thickness at the edge of the shell. However, Shapley 1 seems to be a true torus, a doughnut-shaped ring of material that we happen to see face-on around the central star. Sp-1 is about 1000 light years distant. (*) It was discovered by US astronomer Harlow Shapley in 1936.
(*) Australian Astronomical Observatory
---
SHAPLEY 1
PLANETARY NEBULA IN NORMA
100 % RESOLUTION RGB WITH LINEAR STRETCHING ONLY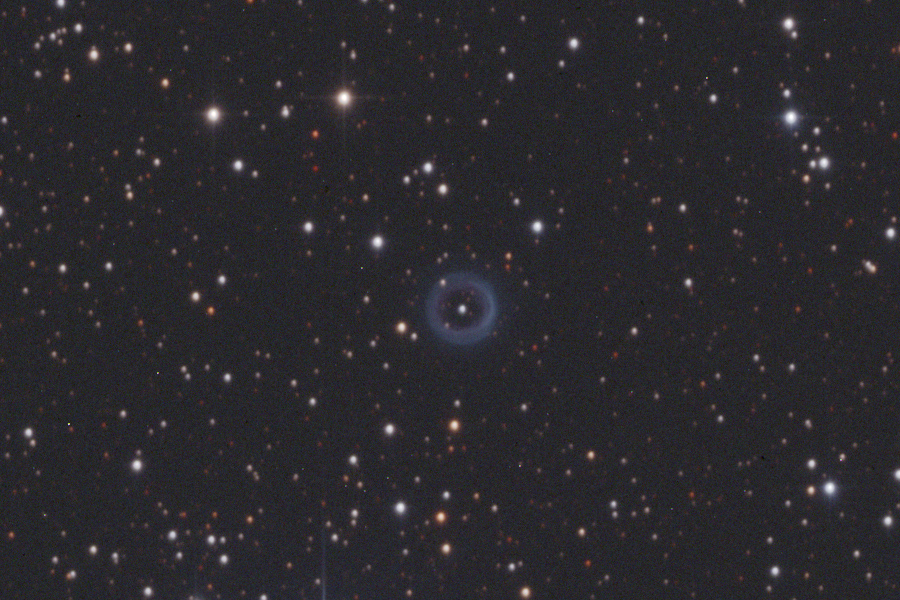 See above a raw RGB image with just small linear stretching. Although extinctions factors were not applied this image gives an approximation of the natural color the object might have. Notice (with some effort) the faint outer halo and also some magenta tad within its internal structure.