SHARPLESS 2 301
EMISSION NEBULA IN CANIS MAYOR
(Image centered at ra: 07:10.44 / dec -18:31)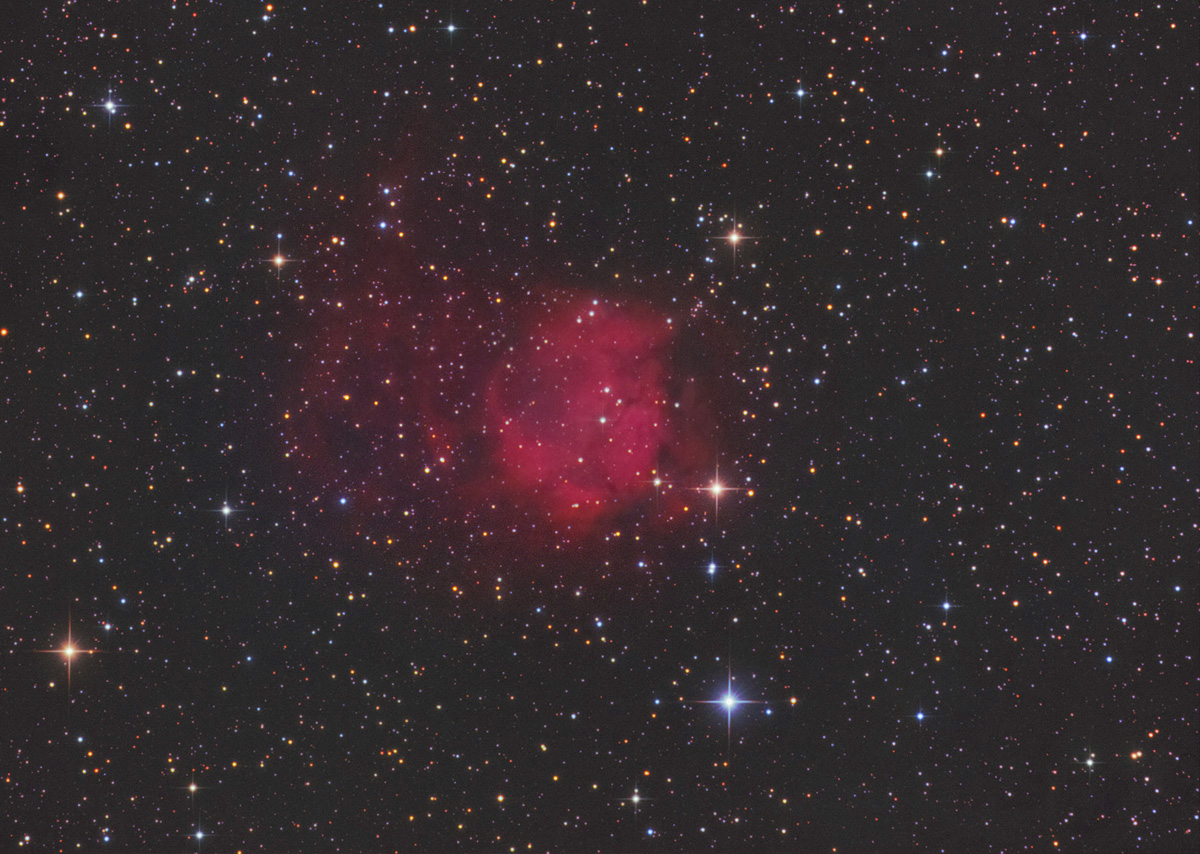 CLICK THE IMAGE FOR A LARGE VIEW
January 2021 - Home Backyard in Martínez, Buenos Aires, Argentina
---
DATA
TYPE: Bright Nebula
APPARENT MAGNITUDE: n/a
APPARENT DIAMETER: 8 x 9 arc minutes
DISTANCE:42000 light years
IMAGE INFORMATION
SCOPE: ORION OPTICS UK 8" f5 Newtonian w/Antares Optics 2,6" Secondary & Televue Paracorr working at f5,75
CAMERA: QSI 583 WS at - 10%
MOUNT: SKY WATCHER NEQ6
FILTERS: Baader LHaRGB Set
SKY CONDITIONS: Urban Skies - Bortle 8.
EXPOSURES: HaRGB (60,60,60,60)
OBJECT DESCRIPTION AND IMAGE SESSION
Located 6 degrees south east from Sirius in the constellation of Canis Mayor. Unlike many of the Sharpless objects, which can cover swaths of sky larger than the fields of many telescopes, Sh2-301 measures just 9'x8' across. From dark-sky sites, Sh2-301 reveals an unusual shape that is best described as an irregular, three-lobed fog with thin lanes of dark nebulosity threaded throughout. Several stars appear superimposed on the nebula. The brightest is a 10th-magnitude point found toward the cloud's southeastern edge. Another tuft of brighter nebulosity appears to surround a triangle of 12th-magnitude stars at the northern border. These stars make a handy gauge for judging the full extent of the nebula.
A typical warm summer night. The Ha channel was used only for the dim outside structure of the nebula. The central bright structure was processed in RGB.