SIMEIS 147 AKA SHARPLESS 2 - 240
SUPERNOVA REMNANT IN TAURUS & AURIGA
(image centred at ra: 05.41,19/ dec 27:47)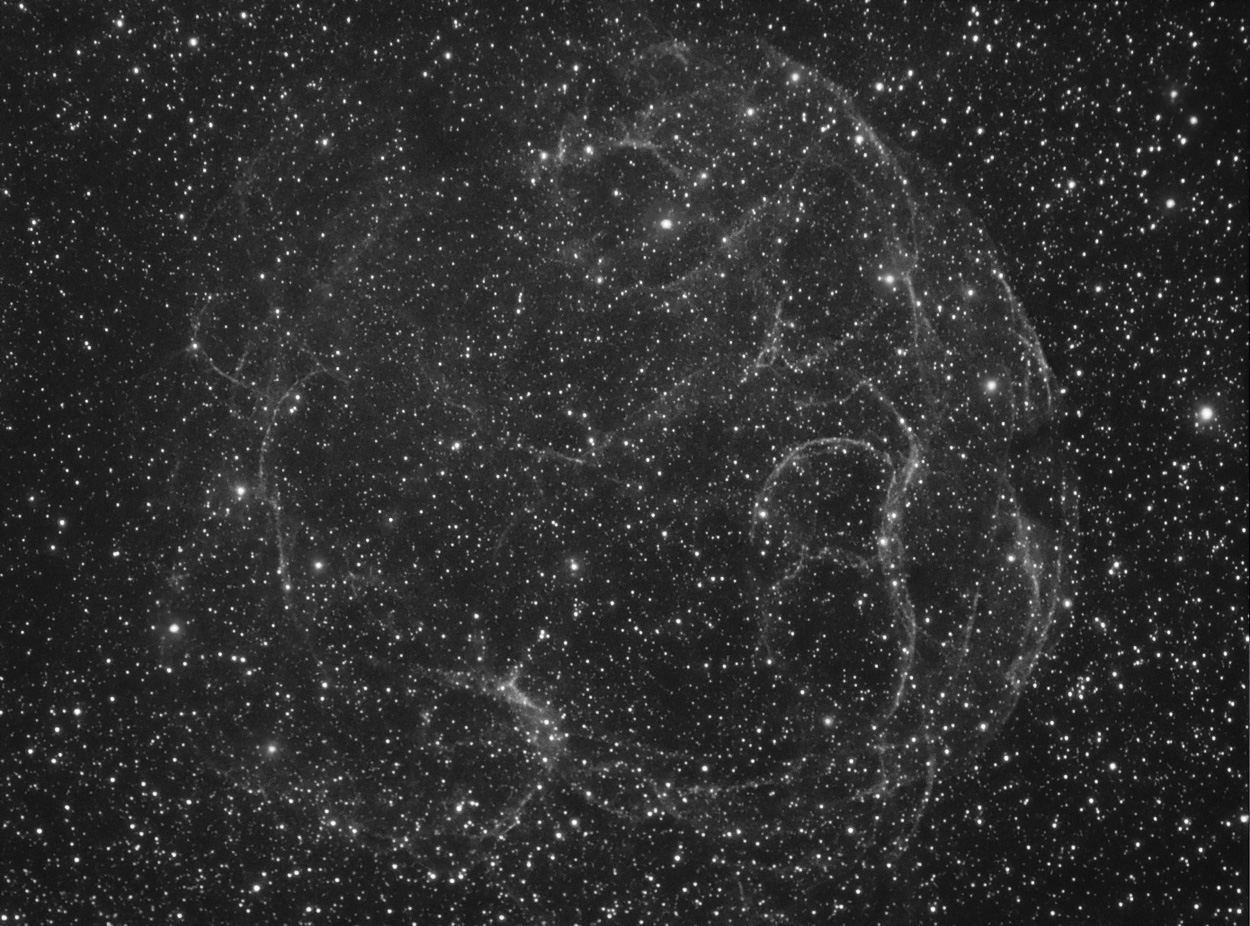 Collaboration with Carlos Caccia, Leonardo Julio - Proxima Sur
October 2009, Intendente Alvear, La Pampa, Argentina
---
DATA
TYPE: Supernova Remnant
Apparent Magnitude: extremely faint
Apparent Diameter: 3 degrees
DISTANCE: 3000 lights years
IMAGE INFORMATION
SCOPE: Pentax Takumar 135 mm f2.8 Lens. Stop at 3.5 riding in a LXD 55 6"SN telescope
CAMERA: SXVF H9
GUIDING: 6" SN Telescope
IMAGE ACQUISITION: AstroArt 3.0 - Control Interface 3.72 plug in
FILTERS: Astronomik Ha 6 nm - Atik Filter Wheel
SKY CONDITIONS: rural skies - transparency good. Object 25º from the horizon
EXPOSURES: Ha (120) 2x 10 minutes + 5 x 20 minutes
PROCESSING: Images Plus, Adaptive Add & Digital Development, Plus CCD Sharp, Photoshop CS3
OBJECT DESCRIPTION AND IMAGE SESSION
Simeis 147 is a supernova remnant after the explosion of a massive star at least of eight times solar masses occurred some 100.000 years ago. The object belongs to the constellation of Taurus and Auriga. A big target for the H9 due to its considerable size of 3 degrees. The explosion has expanded star material over 150 light years. Recently a pulsar was discovered being the only element left of the dying star.
The image showed is an Ha rendition along with an inverted image to see how the structure spans over the background.
A very faint target. The first two ten minutes exposures were not enough considering the fact that the object was not at its high altitude, so we pushed the mount to 20 minutes. Unfortunately there was no time for the colour channels so we just covered the Ha band.
---
SIMEIS 147 AKA SHARPLESS 2 - 240
INVERTED IMAGE - SUPERNOVA REMNANT IN TAURUS & AURIGA