SMALL MAGELLANIC CLOUD
NEIGHBOUR GALAXY IN TUCANA
(Image Centred at: ra: 0:58.2/ dec -72:50)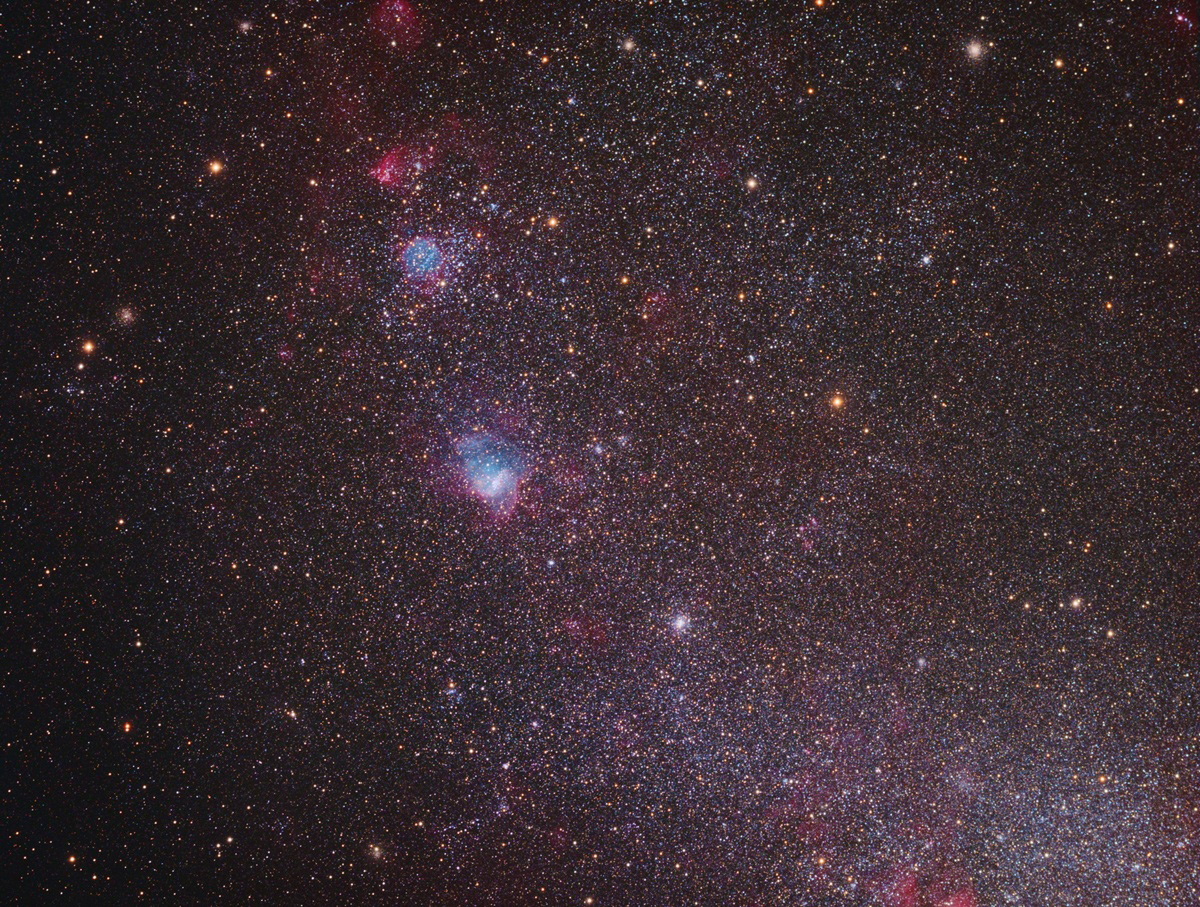 CLICK IN THE IMAGE FOR HIGHER AND CLOSE UP VERSION
Intendente Alvear Provincia de la Pampa, Argentina
---
DATA
TYPE: Irregular Galaxy
Visual brightness: 2.3
Apparent Diameter: 280 x 160 arc minutes
DISTANCE: 210.000 lights years
IMAGE INFORMATION
SCOPE: TMB 92 SS at f5.5
CAMERA: QSI 583 WS at -15C
MOUNT: NEQ6
GUIDING: Orion Short Tube 80 f 5 - AstroArt 3.0 - Control Interface 3.72 plug in
FILTERS: Baader LRGB Astronomik Ha 6nm
SKY CONDITIONS: transparency and seeing good.
EXPOSURES: LHaRGB (30,30,30,30,30)
PROCESSING: Images Plus. No darks no flats no bias used. Color Combination in Images Plus. Photoshop CS2
OBJECT DESCRIPTION AND IMAGE SESSION
The SMC is an irregular galaxy type. It might be distorted by the gravitational forces of our Milky Way and the LMC. Interesting to see a variety of extra galactic objects like nebulae and star clusters which can be reached through amateurs telescopes. The bright object in the middle is NGC 346 in changing its shape through the cosmic eras. Massive interactions of light wind heat and star radiation are pushing far away interstellar gas that shines in a wide color spectrum. Few arc minutes on top is visible NGC 371 is an open star cluster surrounded by ionized hydrogen. It has 5 arc minutes size and very active star forming region.
The SMC and LMC were certainly known through ages by the southerners. It became known to the world when Fernando de Magallanes went on his journey around the world in 1519.