SMALL MAGELLANIC CLOUD & FRIENDS
NEIGHBOUR GALAXY IN TUCANA
(Image Centred at: ra: 0:58.2/ dec -72:50)
-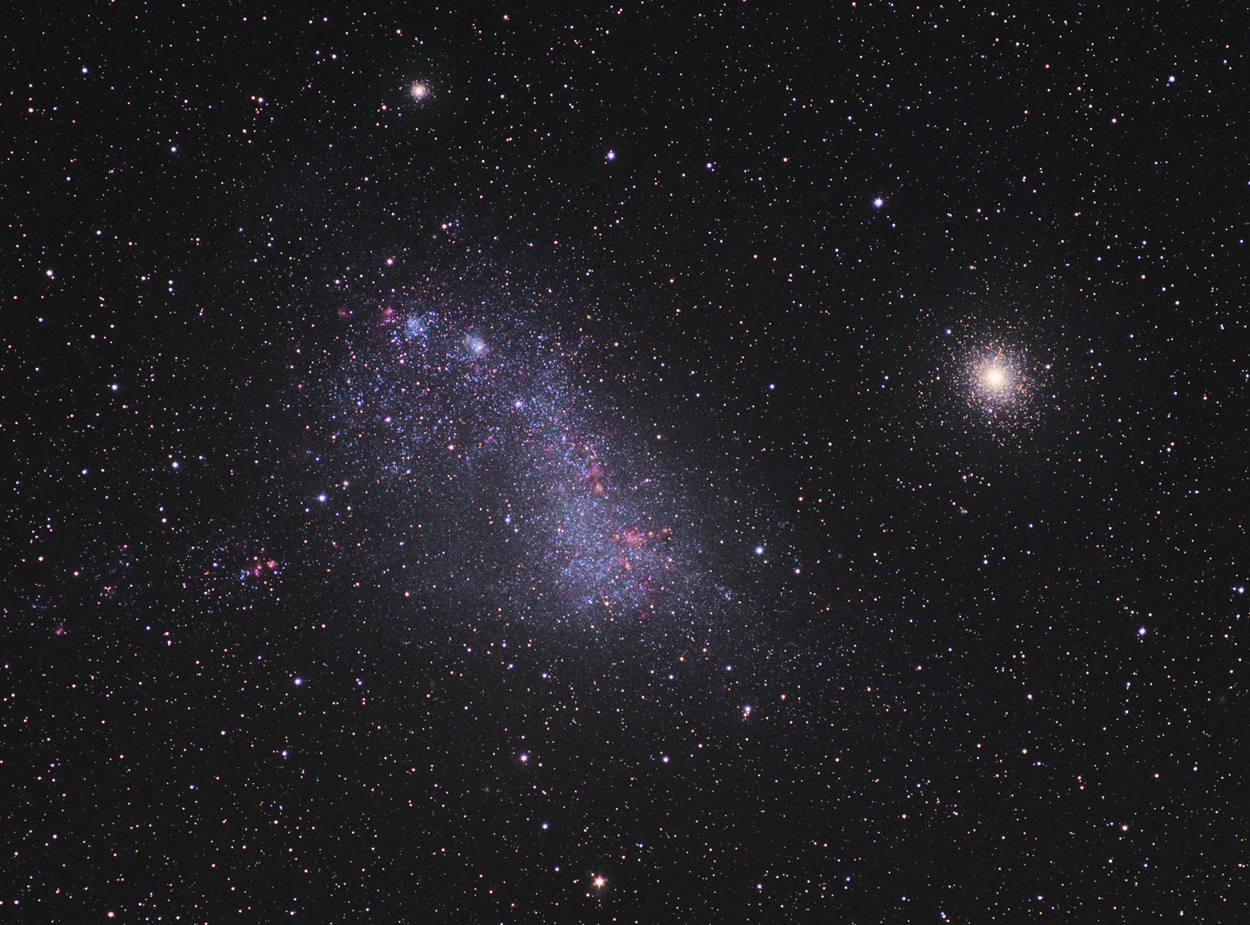 CLICK IN THE IMAGE FOR HIGHER AND CLOSE UP VERSION
November 2010, Mercedes Observatory Buenos Aires, Argentina
Collaboration with Juan Jose Destefani
---
DATA
TYPE: Irregular Galaxy
Visual brightness: 2.3
Apparent Diameter: 280 x 160 arc minutes
DISTANCE: 210.000 lights years
IMAGE INFORMATION
SCOPE: Carl Zeiss Jenna 135 f3.5 lens stopped down at 5.6
CAMERA: QSI 583 WS at -15C
MOUNT: NEQ6
GUIDING: Orion ED 80 f7.5 - AstroArt 3.0 - Control Interface 3.72 plug in
FILTERS: Astronomik LHaRGB
SKY CONDITIONS: rural skies - transparency and seeing good / windy session
EXPOSURES: LHaRGB (25,20,20,20,20)
PROCESSING: Calibration (Sigma Median) done in Images Plus. No darks no flats no bias used. Color Combination in Images Plus. Photoshop CS2
OBJECT DESCRIPTION AND IMAGE SESSION
The SMC is an irregular galaxy type. It might be distorted by the gravitational forces of our Milky Way and the LMC. Interesting to see a variety of extra galactic objects like nebulae and star clusters which can be reached through amateurs telescopes. At the right Globular Cluster NGC 104 separated by only 90 arc minutes (apparent distance), NGC 362 is up and shines at magnitude 6.8 with 14 arc minutes size.
Despite its high magnitude the cloud is not visible through binoculars from my backyard in Martinez (30 km north Buenos Aires). I can glimpse NGC 104 but no single feature of the galaxy. However in clears skies is a joy for the naked eye.
The SMC and LMC were certainly known through ages by the southerners. It became known to the world when Fernando de Magallanes went on his journey around the world in 1519.