VEIL NEBULA COMPLEX
NGC 6960, 6979, 6974, 6992, 6995 & IC 1340
SUPERNOVA REMNANT IN CYGNUS
(Image Centred at ra 20h:51m / dec +30:40 )
IMAGE ACQUISITION BY JIM MISTI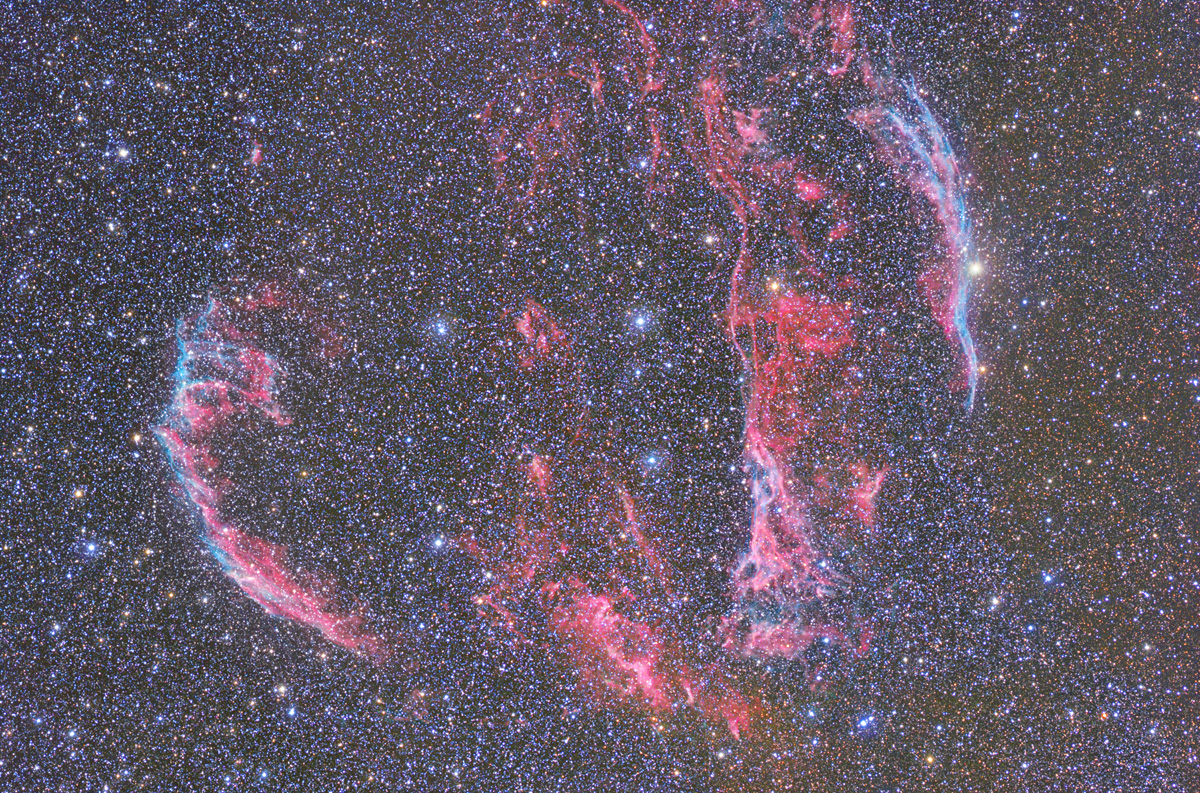 CLICK THE IMAGE FOR A HIGHER RESOLUTION VIEW
Misti Mountain Observatory, Arizona, USA
---
DATA
Type: Supernova Remnant
Apparent Magnitude: 5.0 (*)
Apparent diameter: 230 x 160 arc minutes (*)
Distance: 2.600 light year (*)
(*) Source SEDS
IMAGE INFORMATION
Optics: Takahashi 106 N (Courtesy of Steve Mazlin)
CAMERA: SBIG STL 11.000
SKY CONDITIONS: Dark Skies
EXPOSURES: LHaRGB (150,105,25,25,25)
OBJECT DESCRIPTION AND IMAGE SESSION
A very large object is also known as the Cygnus Loop. The complex covers six times the diameter of a full Moon representing a distance of 80 light years in space. The delicate glowing nebulous arcs are the result of an explosion of a massive star occurring in our Milky Way ten thousand of years ago.
To the earlier observers its brighter parts appeared as a number of distinct diffuse nebulae, and were assigned e.g. separate NGC numbers, NGC 6960, NGC 6979, NGC 6992, and NGC 6995; fainter extensions have additional catalog identities: An extension of Northern part NGC 6979 got the designation NGC 6974, and an extension of southwestern NGC 6995 was cataloged as IC 1340
This object is difficult to image from our latitudes. It requires very dark locations and its transit is very short. Another good opportunity of processing the raw files nicely offered by Jim Misti in his website.
Thanks Jim !!