NGC 6822
(aka BARNARD GALAXY - SAGITTARIUS)
(Image Centred at ra 19h:44m / dec -14:48)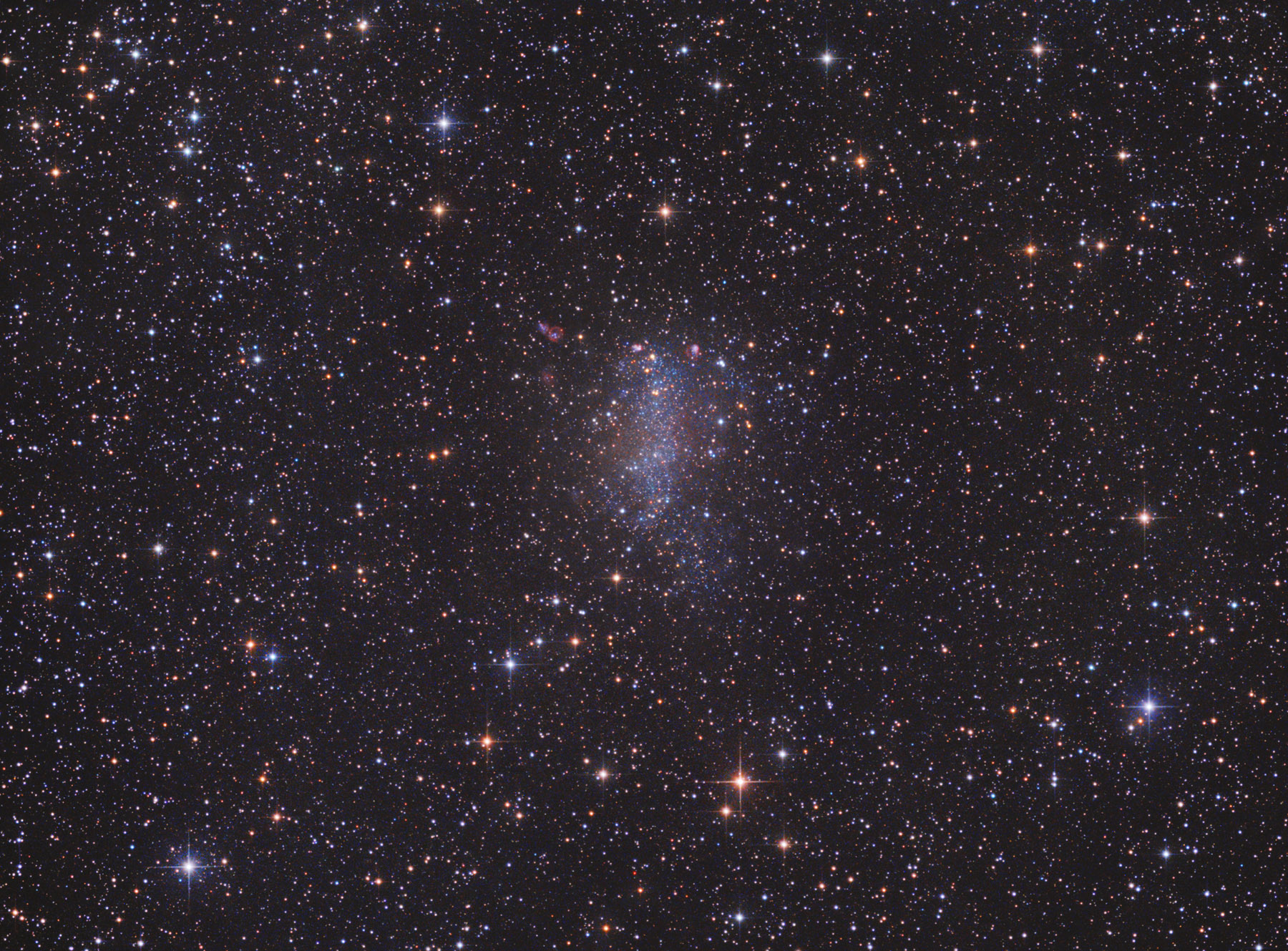 July 2015 - Complejo La Aldea, San Luis, Argentina
---
DATA
Type: Irregular Galaxy
Apparent Magnitude: 9.3
Apparent Diameter: 15,4 x 14.2 arc minutes
Distance: 1.6 +/- 0.3 million light years
IMAGE INFORMATION
OPTICS: 6" f5 Orion Optics Reflector with Televue Paracorr working at 5.75
CAMERA: QSI 583 WS
FILTERS: Baader LRGB
MOUNT: Sky Watcher NEQ6
SKY CONDITIONS: rural skies.
EXPOSURES: LRGB (70,30,30,30) RGB bin 2x2.
OBJECT DESCRIPTION AND IMAGE SESSION
This galaxy was discovered by American Astronomer Edward Emerson Barnard in 1884 with a 6 inches refractor telescope. It is an irregular member of our Local Group and was recognized by Hubble and Humason in the 1920s. It is one of the nearest Galaxies after the Sagittarius Dwarf and the LMC. It has a very low surface brightness and, as our nearby Magellanic clouds it has no symmetry.
In 1925 in a classic paper NGC 6822, A Remote Stellar System, Edwin Hubble reported several bright objects in NGC 6822. Some of them are bubbles nebulas with hot stars of the Wolf-Rayet type, producing intensive stellar winds producing this thin and luminous bubbles similar to Henize 70 in the Large Magellanic Cloud.
---
(100 % resolution)